| | | |
| --- | --- | --- |
| Birr Cross Roads Cemetery | Belgium | |
| | |
| --- | --- |
| Region : | Ypres (Ieper), West-Vlaanderen, Belgium |
| Latitude : | 50.847626 |
| Lontitude : | 2.928414 |
| CWGC Link : | 52900 |

Birr Cross Roads Cemetery is located 3 Km east of Ieper town centre, on the Meenseweg (N8), connecting Ieper to Menen. From Ieper town centre the Meenseweg is located via Torhoutstraat and right onto Basculestraat. Basculestraat ends at a main crossroads, directly over which begins the Meenseweg. The cemetery itself is located 2.5 Km along the Meenseweg on the right hand side of the road.


View Full Screen in Google Maps
No
Rank
Name
Service No
Regiment / Service
Date Of Death
Grave Ref
1
Pte.
Logan, Joseph
12080
Royal Inniskilling Fusiliers
29/09/1918
Grave III-D-1
2
Pte.
Smyth, Joseph
8406
Leinster Regiment
13/08/1915
Grave II-D-23
The village and the greater part of the commune of Zillebeke were within the Allied lines until taken by the Germans at the end of April 1918. The village was recovered by the II Corps on 8 September 1918.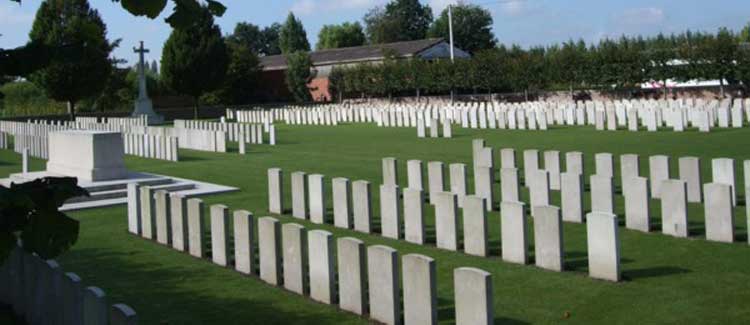 Birr Cross Roads was named by the 1st Leinsters from their depot. The cemetery was begun in August 1917 and used as a Dressing Station cemetery until, and after, the German advance in 1918.
At the Armistice, it contained nine irregular rows of graves, now part of Plot I, but was greatly enlarged when graves were brought in from the surrounding battlefields and from certain smaller cemeteries, including:
BELLEWAARDE RIDGE MILITARY CEMETERY, ZONNEBEKE, was a little way North-East of Bellewaarde Lake, almost on the top of the low hill which rises northwards from the Menin Road between Hooge and Clapham Junction. It contained the graves of 17 soldiers from Australia, and eleven from the United Kingdom, who fell in September and October, 1917. The Battle of Bellewaarde Ridge was fought on the 24th-25th May, 1915; the Attacks on Bellewaarde were delivered, unsuccessfully, in June and September, 1915; and the Ridge, taken in July, 1917, and given up in April, 1918, was finally retaken by the 9th (Scottish) Division on the 28th September, 1918.
BIRR CROSS ROADS CEMETERY No.2, seventy-five metres South of No.1 (the present cemetery), contained the graves of 18 soldiers from the United Kingdom who fell in July and August, 1917.
UNION STREET GRAVEYARDS No.1 and No.2,
ZILLEBEKE, were due North of Zillebeke village, between Gordon House and Hell Fire Corner. They contained the graves of 19 soldiers from the United Kingdom who fell in August and September 1915.
There are now 833 Commonwealth servicemen of the First World War buried or commemorated in this cemetery. 336 of the burials are unidentified, but there are special memorials to nine casualties known or believed to be buried among them.
Other special memorials commemorate 18 casualties buried in Birr Cross Roads Cemetery No.2 and the Union Street Graveyards, whose graves were destroyed by shell fire, and one Belgian interpreter whose grave cannot now be found. The cemetery was designed by Sir Edwin Lutyens.